Welcome to Abergavenny Steam Rally
Friday 3rd June and Saturday 4th June 2022
Bailey Park, Park Road, Abergavenny, Monmouthshire NP7 5PR
Under 16's free, Everyone else £10 per head, no concessions.
An early Steam Rally note for your next year diary. Because of the Queen's Jubilee Celebration on the first weekend in June, our Steam Rally will be on Friday 3rd June and Saturday 4th June. The full bank holiday is Thursday 2nd June to Sunday 5th June. In 2023 we will return to our usual Bank Holiday weekend which will be 28th / 29th May 2023.


This is a Unique Event in the Steam Rally Calendar in the UK because it takes place in a Park in the middle of a Market Town.
Come to Abergavenny for a marvellous day out for the whole family.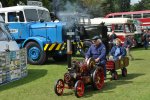 The Rotary Club of Abergavenny took over the running of the Abergavenny Steam, Veteran and Vintage Rally in 2000, when Ivor Trotman, who had run the event before that felt it was time to hand over to an organisation which had more people to call on. Abergavenny Rotary stepped into the breach rather than let the event slip away, and since then it has gone from strength to strength.
In 2010, Rotary handed over to the Abergavenny Steam Rally Co Ltd which now runs the show, although all profits are handed back to the Rotary Club for distribution to worthy causes in the town. It is now the biggest dispenser of charitable money in North Gwent.
The committee has wound up the Limited Company and formed a C.I.O., a Charitable Incorporated Organisation. This does not affect the running of the rally, but means we don't have the same tax commitment, which means more money for charities and worthy local organisations
This two day event offers something for the whole family. As well as the mighty giants of steam and vintage vehicles, the show has a children's funfair, a food village, rural crafts and handicrafts and a wealth of stands selling everything from auto jumble to garden plants and a lot of other stuff in-between.
Steam Traction Engines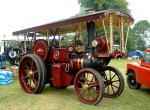 For the two days of the year Abergavenny is redolent with the sounds, smells and sights of a bygone era. Mighty steam traction engines, respendent in their colourful liveries, with smoke belching from their chimneys, pistons clanking and hissing steam, are still the flagships of a fantastic day out within the Seven Hills of Abergavenny.
Steam organs are an unusual sight these days. Abergavenny regularly hosts three different machines, one of which is used as the accompaniment to can-can girls dancing to a mighty steam organ, providing yet another splash of colour in a field of redolent colours.
Vintage, Military and Commercial Vehicles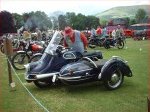 Look back with nostalgia at the vintage cars, lorries and motorcycles, to the days when Britain led the world in building vehicles. An extensive array of stationary engines continues the theme. The low throb of a single cylinder engine is a world away from the high-pitched whine of their cousins of today.
Models, Handicraft, Farming & Displays
The model tent displays superb examples of the model-maker's skill while the handicraft displays give the opportunity to see craftsmen & women at work. An array of early tractors, and farming machinery join country pursuits, such as a working sawmill and threshing machine, a display of birds of prey & other interesting exhibits. Each day there is a full programme of arena events including parades of all the vehicles.