Abergavenny Steam Rally Attractions 2014
Sunday 27th and Monday 28th May 2018
Bailey Park, Park Road, Abergavenny, Monmouthshire NP7 5PR
Adults £7, Secondary School Children and OAPs £4. Younger Children Free
2017 Rally Attractions
THE STANNAGE INTERNATIONAL STUNT TEAM


THE STANNAGE INTERNATIONAL STUNT TEAM This is a true family affair, The Stannage International Stunt Team, Mark, Janine, and Aaron Stannage have worked world wide as the Stannage International Stunt Team for over 18 years established in the year 2000, bringing excitement to audiences of all ages, with a view of entertaining at are event in 2018.
Team leader Mark Stannage started his professional career in 1984 at the tender age of 14, now with over 34 years experience specializing in car, motorbike, fire and high fall stunts, performing some of the most spectacular stunts ever seen on film or TV. Mark and his family perform their spectacular High Fall Show, Flaming High Fall Show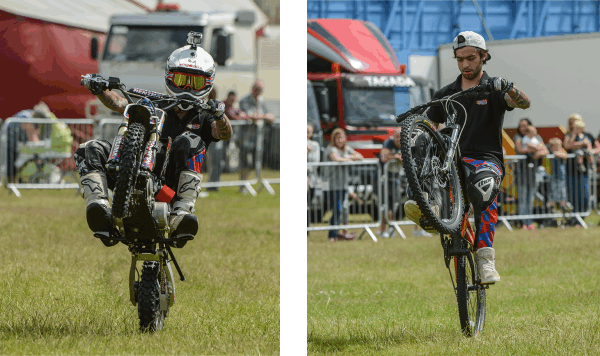 This world record breaking stunt team have performed their shows all over Europe and the Middle East, recently returning from the Muscat Festival in Oman.
Mark and his wife Janine will be commentating this fantastic show, their son Aaron following in his fathers footsteps, at only 23 years old he has 20 years experience as a stunt performer.
Aaron having performed on various TV shows and Newspaper features in the last few years he is fast becoming a star in his own right, just finishing his first feature film in 2017, himself also a Guinness World Record Holder Events
Visit the Stannage International Stunt Team website
Rockwood Dog Display Team

The Rockwood Dog Display Team provides great family entertainment for outdoor events, shows and corporate events. The display takes the audience through every aspect of dog training from obedience performed to music, dogs jumping through 10inch hoops, agility, fly ball and active Man Work where a dog is seen to apprehend an armed criminal. Also relevant in today's world, a child is saved by her dog while being absconded. A great visual effect is created when all the dogs in the team demonstrate their skill and courage by negotiating the 80 ft ramp with four fire squares. The dog display will delights the audience with their comedy routines and tricks
They have been providing parkour performance on an international level since 2005. The versatile nature of parkour, freerunning & acrobatics means the team provide a unique display, act or event.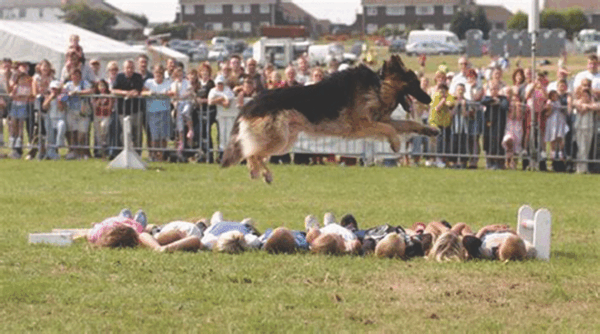 The show culminates in an exiting agility relay race, with two teams racing against the clock and the audience cheering on their chosen team The dog display is all beautifully performed to music and includes an informative and amusing commentary by Martin Winfield.The dogs well-being and care is always the priority, with the handlers and all the members handle their dogs with compassion and above all patience. Some of the dogs have been rescued and perform spectacular stunts like parallel bar walking and fire retrieving.
The team has had countless appearances on National TV including, That's Life, The Wogan Show, TFI Friday The Generation Game, The Pets Rescue Road Show, Rolfs amazing animals, BBC Childrens TV, ITV This Morning and Dogs With Jobs for The National Geographic Channel on Sky TV.
Gentle Giants - Shire Horses
Last year we introduced the Gentle Giants Shire Horses to our Steam Rally and they were a great success. So we asked them to come back again for our 2018 Rally. We hope you really enjoy meeting them again. They are wonderful, impressive animals and Gentle Giants is a most appropriate name for them. If you have not had the pleasure of seeing them at close quarters before you must surely pay them a visit in their paddock near to the Can-Can dancers' stage.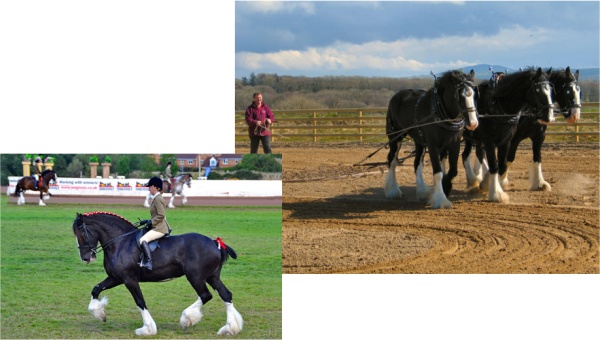 Gentle Giants Shire Horse Drawn Carriages are based in Moylegrove, Pembrokeshire.
Ensure you have a truly magical day and come to meet the horses at the Steam Rally, as they are prepared, including grooming, plaiting etc. These beautiful animals are quiet and patient and enjoy all the attention they receive. Children are welcome to come and stroke the horses.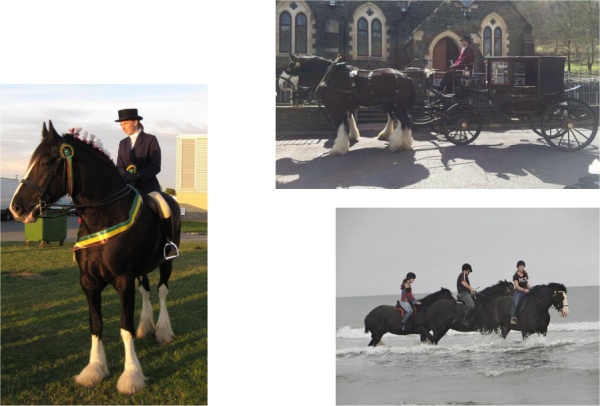 You can watch them as they take part in the Sunday Road Run (starting at 11.00am from the Fairfield Car Park Exit) or parade in the Arena on both Sunday and Monday. You might even see one gallop - a most impressive sight .
LONGTOWN MOUNTAIN RESCUE TEAM (LMRT)
Longtown Mountain Rescue Team was originally formed in 1965 to help people in difficulties within the Black Mountains. The role of the team has now expanded to include a wide variety of potential situations, where the police consider our assistance and expertise would be of benefit.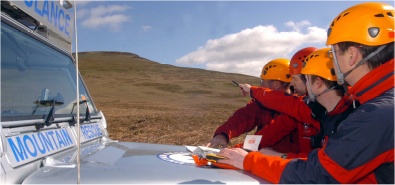 Teams in being in 1965 were, Longtown, Brecon, Woodlands Outdoor Centre Glasbury, Merthyr Police / Civil Defence which became Morlais. In 1967 the South Wales Mountain Rescue Association was formed, comprising of the above plus Bridgend Scouts. The Longtown Mountain Rescue Team was an informal organisation, holding occasional meetings with some training sessions, and only rarely called upon to give assistance. In the late 1960's they introduced monthly training sessions, practicing search and evacuation techniques on the hill.
Operating under Mountain Rescue (England and Wales) the coordinating body Longtown Mountain Rescue Team is one of 48 teams operating within nine mountain rescue regions. Each team is an independent charity responsible for their own fundraising and management. The team consists solely of volunteers from all walks of life, with a wide variety of occupations, who give up their free time to combine a love of the outdoors with serving the community, assisting people in distress. This commitment means they can be on call 24 hours a day, seven days a week, as well as attending the training required to increase and maintain the necessary skills needed to operate.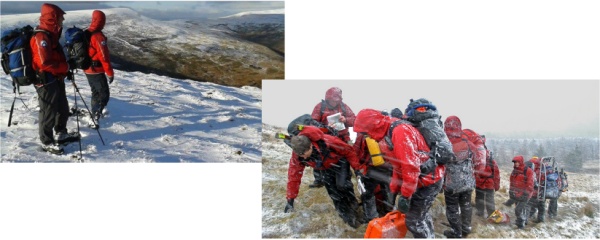 The members of the team are unpaid volunteers, committed to the professional service they provide to the emergency services and the community. This commitment not only involves being on call 7 days a week, 24 hrs a day, but to the training required to maintain the high professional standards.
WHERE WE OPERATE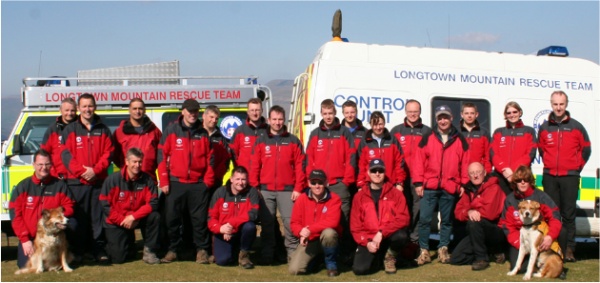 Our main operating area is the easterly section of the Brecon Beacons National Park, an area known as the Black Mountains, popular amongst walkers, mountain bikers and outdoor enthusiasts. The Brecon Beacons cover an area of some 520 square miles and much of the park is over 800ft (244m) above sea level. The main summits are over 2000ft (610m) high and the whole area is of varied terrain from open moorland to dense forests and barren peaks. The team is not however purely confined to the mountainous regions, we operate in lowlands and urban areas if necessary, as far north as the southern reaches of Snowdonia and south to the Bristol Channel.